Shorts And Other Laundry, a 'best of' collection of short stories from Ethan Holmes
is now permanently free. Click on the book cover and download the version
you prefer through Smashwords. If you own a Nook, Kindle, Ipad or just about any other
Ereader/Tablet, Shorts and Other Laundry is now available for Free in keeping with the
spirit of the season!
Eight entertaining stories from the slightly askew mind of author Ethan Holmes.
The Box; A man gets a strange box and a bit more than he wished for.
Spooked to Death; Two women decide to find out, once and for all, who is trashing their back porches.
A Very Small Town; Life in a small town isn't always what it seems to be.
Two Paragraphs; A depressed writer meets a ragamuffin street urchin who claims to be Death.
Who's In Charge Here? Norman Wright is having a real hard time keeping control of his life.
The Man Who Ate Popcorn; Meet George, a man who has a strange obsession with popcorn.
Have Some Cookies and Milk; Three young schoolboys have had enough of Jake bullying them.
Make and Model; Jeff and Marta are looking forward to the birth of their little girl but get a bit more than they were expecting.
Ethan Holmes welcomes reviews of Shorts and Other Laundry from his valued readers.
Shorts and Other Laundry is free on Smashwords.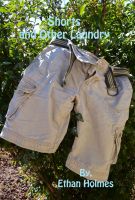 Shorts and Other Laundry is free on Amazon Kindle.
Happy Holidays to all.
Read excerpts from other titles by Ethan Holmes.
Live Your Life in a Crap Free Zone